Chapel, Minister's Study and Library
Collection Description
Chapel
A 19th-century church, constructed of typical board and batten, has been re-created at the Museum using furnishings from various churches. These include a 140-year old pulpit and arches from a Merrickville church and pews from a Monkland church, both in the Glengarry area. Oil lamps light the sanctuary and a pump-organ stands at the back of the church.
Minister's Study
It has been said that ministers of the Kirk (the Scottish word for "church") were "invisible during the week and incomprehensible on Sundays." Sermons of the past were erudite and lengthy, the result of extended periods of time that the minister spent poring over weighty theological tomes in the study. A re-creation of a Minister's Study adjoins the Chapel.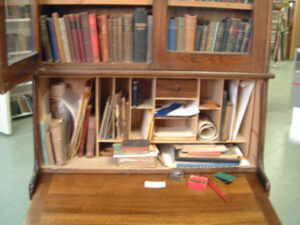 What kind of books did the ministers use to create their sermons? The National Presbyterian Museum has amassed hundreds of pre-20th-century volumes to show the resources that might have been found in a minister's study. Books in Latin, Greek and Hebrew enabled the minister to study the Bible in the original tongues. Homeletical and theological books fill the shelves. Expositions of Scripture and commentaries on the Bible abound.
Not all the books dealt with religion. In many communities, the minister and the medical doctor were the only persons with post-secondary education and, in an era that pre-dated public libraries, private collections of books were very important. Thus, one could expect to find books on philosophy and psychology as well as history and the sciences in the minister's collection.
Many volumes preserved in the Minister's Study are long out of print – for example, Bishop Usher's writings of the early 1600s. The works of John Calvin – the French-born 16th-century theologian whose teachings gave rise to the theology of The Presbyterian Church in Scotland – are also included. The Museum has a rare and valuable edition of the Institutes of the Christian Religion (1608).